How to Find the Best Video to GIF Maker for Windows 10?
GIFs are perfect for showing your emotions without saying much. But which is the best GIF Maker if you wish to use personalized GIFs? The answer is in the question: Video to GIF Maker, Photos to GIF Maker app for Windows. 
We use GIFs because GIFs are fantastic. 
But what exactly are GIFs?
GIF is the abbreviated form for Graphic Interchange Format. GIFs are the animated series of continually looped pictures and inaudible videos. GIFs are considered the most suitable way of communicating one's thoughts and emotions. GIF usually loads instantly compared to a video because of their shorter size. 
GIFs are quick and easy to create. You can create GIFs with online tools or get an app. The most amusing thing about GIF is that they do not consume much page-load speed on the webpage; as mentioned earlier, it has a shorter size.
How to make a GIF using Photos?
If you want to make a GIF using your photos on your PC or laptop, download a Video to GIF Maker or Photos to GIF Maker app, which will help you create GIFs offline without disturbing ads or promotions. 
Download the Video to GIF Maker app; it is one of the best Photos to GIF Converter apps for Windows. 
How to Use the Video to GIF Maker app?
The Video to GIF Maker is a free app for windows. With this app, you can easily create GIFs from photos and videos, Get the GIF Maker app from Microsoft Store, and start making amazing GIFs.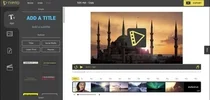 Video to GIF Maker, Photo to GIF Maker
Get the images or videos you wish to convert into GIFs, set each duration, and convert it into a perfect GIF. You can now easily create animated GIFs with photos and share them on WhatsApp, Facebook, and other social media platforms. The photos to GIF converter application also provides the features needed to edit images used to create the GIF. 
Features of Video to GIF Maker, Photo to GIF Maker:
Camera To GIF Maker – Record a 10-second video, trim it, and save it as a GIF file.
Video to GIF Converter – Select a video from the device's gallery, trim it by setting the start and end time and create a fantastic GIF.
Images to GIF Converter – Select multiple photos from your device's gallery, set the duration, and create an awesome GIF.
You can also check here for the app tutorial for a better understanding. 
Make your awesome animated GIFs with Video to GIF Maker app from videos and multi images and share them with everyone via Facebook, Twitter, Instagram, WhatsApp, Telegram, and many other apps.